Useful Information
Student Residence
You will have to find somewhere to stay to match your needs.
Around 77% of students stay in apartments or share houses.
There are many types of student lodgings, including houses or student dorms run by schools, public corporations, or local governments. However, about 77% of students live in private rental apartments or share houses. Consult the student affairs office at your school or a real estate agent in the area you wish to live in in order to find the most suitable solution for you.
In order to live comfortably and to choose the best place for you, it's important that you follow Japanese housing rules:

1) Apartments with good sunlight, near train stations, and in corners are popular with Japanese people. If you do not insist on these things, it can be possible to find a cheaper apartment.
2) At the time of contract, you may have to pay to approximately 6 times the monthly rent for: Rent, Deposit and Key Money, brokerage fees, etc.
3) Japanese private dormitories generally do not include furniture and appliances. Attaching posters to walls, using nails, or otherwise changing the interior is generally prohibited.
Status of student accommodations Ministry of Education, Culture, Sports, Science and Technology (MEXT)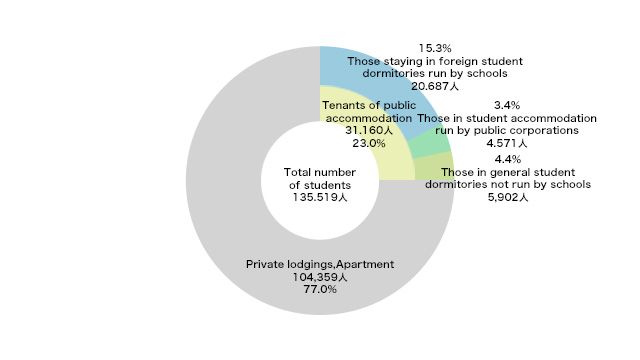 Results of a questionnaire regarding housing assistance for students MEXT, 2010