100+1 Students
#009 My Trihn × JAPAN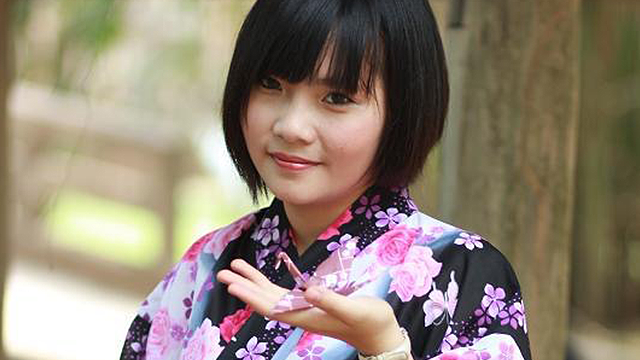 The best way to learn practical Japanese is to come to Japan
"When I was in junior high school, I read the Vietnamese version of the comic Yu Yu Hakusho, and I loved the character Kurama because he was so cool. That was what first made me want to come to Japan," explains Shiki with a smile. Attracted by manga, anime, fashion, music, and other Japanese youth culture, she found a clear dream for herself while studying Japanese at university.

"My dream is to make a production company for idols like AKB48 in Vietnam. I don't want to be an idol myself; I want to train and produce them," she says with a sparkle in her eyes.

In order to realize this dream, she decided to study abroad in Japan after graduation, and arrived in Japan in the spring of 2014. When she came to Japan three years previously, on an international exchange, she took a liking to Shibuya's Center Gai, and this was partly why she chose a school in Shibuya. She had studied Japanese to a high level in Vietnam, and obtained JLPT N2, but when she first arrived in Japan she found listening comprehension difficult, and spent a long time feeling down because she was unable to communicate. But now, a year or so on, her speaking and of course listening ability has improved dramatically, and she also seems to have gained confidence.

"The only way to develop listening skills is through experience. Japanese people come from different areas of the country, and different people talk in different ways. By studying in Japan, I really feel like I'm learning "living" Japanese. For example, phrases like cho ukeru that young people use a lot aren't taught in textbooks, so the only way to learn them is to actually come here and experience them firsthand."

As long as you don't forget your dream, it'll come true
Now, as well as receiving a scholarship, she covers her living expenses by translating and interpreting for Vietnamese trainees, and working part-time at a convenience store. Before coming to Japan, she'd heard that the cost of living was expensive, but based on the income from her part-time jobs, she feels that prices aren't really that high—except for rent. At her Japanese language school there are people from a wide range of different countries, and being able to communicate with lots of different people in Japanese is what she says she enjoys the most. On the other hand, she has a hard time making friends with Japanese people her own age, perhaps because a lot of them are shy. She also tells us that before she came to Japan, she thought the weather was cool all year round, and wasn't prepared for Japan's distinct seasons, especially the heat and humidity of summer.

"Some things about life in Japan I enjoy, and others I don't. Everyone goes through tough times sometimes, and wonders whether they should keep going or stop, but that's a decision they have to make for themselves. It's OK to stop, and it's OK to keep going; the important thing is to not forget your dream. Being in Japan isn't all that matters; as long as you don't forget your dream, you can still make it come true, even if you go back to your home country."

Amid her busy days balancing her studies and part-time jobs, Shiki still finds time to continue working towards her dream. On her days off she reads books about the music industry, or goes to drink tea while watching concerts in Akihabara's idol cafes. She is completely focused on studying the idol industry. "The best thing about studying abroad is that by experiencing Japan firsthand, I've been able to get hints about starting an idol cafe business."

From Shiki's determined tone, you get a sense of her strong will. The day that she will be working in Vietnam as a successful idol producer doesn't seem too far away.

Students profile

My Trihn (Shiki)

Nationality: Vietnam

Age: 24

Arrived in Japan: April 2014