100+1 Students
#006 Sho Ho × JAPAN
Nationality: China
Enrolled school: MEISEI INSTITUTE OF CYBERNETICS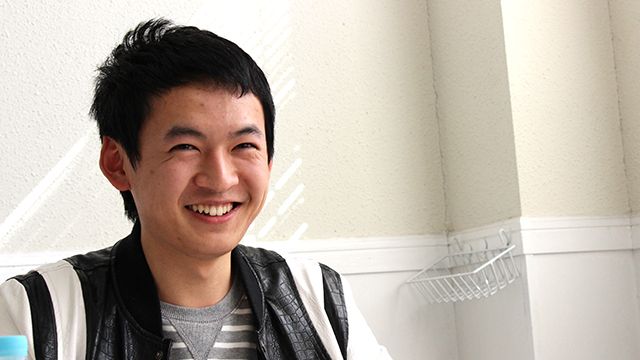 Interview
2 February 2015
First experience of living alone, understanding the importance of being independent
"I used to watch the anime One Piece online from a young age, and always longed to go to that country one day," says Sho Ho who came to Japan as a foreign student in April 2013 after studying Japanese for one year at university in his hometown of Beijing. He expected he had attained a certain basic level in China, but when he actually got to Japan he was often bewildered because what he now saw with his own eyes was so different from what he had imagined.
"When I first got to Japan, I was living with my sister who was already studying here, so she helped me in various ways. If she hadn't been here, I may not have been able to focus as much on my studies," he says, smiling.

Eventually he got used to living in Japan and began to live alone, something he had long wanted to do. "In fact I had never lived alone or away from home before. Now, I prepare my own breakfast, lunch and dinner. Because I have to do everything for myself, I have come to realize how hard it can be. It is also my first experience of working part-time. First I worked for a delivery company and then as a security guard, but found it physically and mentally tough to study and work at the same time. If you are intending to get a part-time job in Japan, it would be better to get a taste of work in your own country beforehand."
The experience of living alone and working has certainly made him grow up. "When I went back to China temporarily, my parents said that my way of thinking had changed since going to Japan, and that I had become an adult," he says proudly.


A step toward realizing his future dream
Sho says that he hopes to work in Japanese real estate in future. "I want to go on to university to study business administration, and then find a job related to real estate. Actually, my father runs a real estate company in China. So my plan is to get some experience in Japan before eventually returning to China and helping in my father's business," he says with a gleam in his eye. He seems to already picture himself polishing up his real estate business skills and becoming successful in China.
Students profile

Sho Ho

Nationality: China

Age: 21

Arrived in Japan: April 2013

Enrolled school: MEISEI INSTITUTE OF CYBERNETICS

Enrolled course: JAPANESE LANGUAGE DEPARTMENT